Axial Piston Pumps PVplus | Frame Size 1: PV016
DTA Hydraulics supplies Parker PVplus axial piston pumps, repair kits and spare parts from stock. As hydraulics distributor of Parker Hannifin, we hold a large inventory of the PVplus (Frame Size 1) rotating groups, pump parts and pumps; all brand new and genuinely made by the Pump and Motors Division Europe of Parker Hannifin. The PVplus is a hydraulic pump solely made in Germany. Contact us now for a request to quote the variable displacement axial piston pump PV016L1D3AYNDL1.
 
Is this not the axial piston pump you require? No need to worry! Just use the online piston pump configurator to configure and select any other fixed or variable displacement axial piston pump that meets your demands. The PVplus PV016L1D3AYNDL1 is a variable displacement pump with horsepower (torque) control. Other hydraulic pump control options include hydromechanical and electrohydraulic control. Please find further hydraulic and technical details below.
PV016 Parker PVplus Axial Piston Pump by Parker Hannifin
Brand

Parker Hannifin

Type

Axial Piston Pump

Model

PV016

Displacement

16.0 ml/rev

Mode

Variable Displacement

Control

Horsepower (torque) Control
Mounting Interface

ISO 3019-1 101-4 (SAE-B)

Shaft Type

Cylindrical Keyed

Shaft Size

Ø 25.4 mm ISO 3019-1 25-1 (SAE-BB)

Min Speed

400 rpm

Max Speed

up to 3000 rpm

Seal Type

NBR seals, FPM shaft seal
Net weight

19 kg

Country of Origin

Germany

Tariff code

8413 5061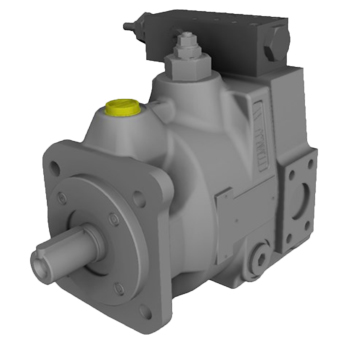 Additional Specifications:
Rotation

Left (counter-clockwise)

Drive

Adaptor for 2nd Pump and Coupling

Drive adaptor

ISO 3019-1 82-2 (SAE-A)

Drive coupling

9T ISO 3019-1 16-4 (SAE-A)

Control type

Horsepower with Pressure Control
Model threads

UNC

Model ports

UNF
Hydraulic Pump Characteristics of Parker PV016L1D3AYNDL1
Order a Parker PVplus axial piston pump or the spare parts you need here.
In the parts tables below you may select the hydraulic parts you need. All PVplus parts we sell are genuine Parker Hannifin and originate in Germany. We highly recommend to use genuine OEM parts only to ensure smooth operation and longer service life.
Axial Piston Pump PV016L1D3AYNDL1 | Hydraulic Pump Assembly with Seal and Shaft Repair Kit
The Parker PVplus hydraulic pumps are produced in Chemnitz, Germany and manufactured by Parker Hannifin Manufacturing Germany GmbH & Co. KG. The PV016L1D3AYNDL1 is an axial piston pump of variable displacement with a maximum displacement volume of 16.0 ml/rev. The mounting interface is according to SAE (ISO 3019-1) and the pump control group is horsepower (torque) control. Further details are listed in the Parker PV016 Datasheet and pump control options.
Axial Piston Pump PV016L1D3AYNDL1 | Repair Kits for Rotating Group and Valve Plate
All pump repair kits listed on this page are for Parker PVplus axial piston pumps of latest design series. Current design of Parker PVplus PV016 is 45 Design (hydraulic pump) and 45 Design (pump controller). The item numbers listed in these tables refer to the PV016 exploded view drawing of the Parker PV016 Spare Sparts List PVplus Design 45. Should you require spare parts for an older design PVplus pump, please contact us for further information (do not forget to include pump name plate information).
Axial Piston Pump PV016L1D3AYNDL1 | Repair Kits for Bearings and Swash Plate
Be sure to operate the hydraulic pump under optimum oil viscosity (not too low) since a thinner lubrication film causes more direct metal to metal contact resulting in increased wear in glide and roller bearings. The PVplus bearing kit contains both the front and rear roller bearing of the drive shaft and are also included in the pump shaft repair kit. The PVplus trunnion bearing unit contains the two glide bearings of the pump swash plate (trunnion bearings are not included in swash plate kit).
Axial Piston Pump PV016L1D3AYNDL1 | Mounting Kits of Through Drive Adaptor and Coupling
More information about through drive mounting kits and options is available to download as Parker PVplus PV016 through drive adaptor and coupling drawing and parts list pdf datasheet. The axial piston pump PV016L1D3AYNDL1 comes with the following through drive options: ISO 3019-1 82-2 (SAE-A) flange adaptor and 9T ISO 3019-1 16-4 (SAE-A) shaft coupling.